So over the Easter weekend I switched to Feedly!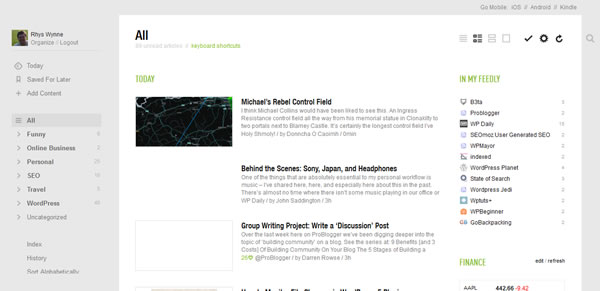 My stalling for switching has largely been because of compatibility with one of my favourite apps – Buffer. Previously on Google Reader, I used IFTTT so that any starred post would get posted to Buffer. I reached out to IFTTT to see if there was a replacement. Their response was the rather unhelpful "sign up for updates!", so I put it on the backburner for a while.
That was until I saw a post by Leo Widrich on the Buffer blog entitled "Top 5 Google Reader Alternatives that Work With Buffer", after trying Feedly first I was happy with it, and decided to stick with it.
I was more than happy, I was impressed! It played a lot nicer with third party services that Google Reader did. I think is because each reader seems to be their respective company's main focus, whereas Google's is search. As such, it's probably in the best interests for them to innovate and keep things new.
It isn't perfect. For one the Android App is dreadful, so much so that rather than the app, I am simply using the desktop version on my tablet. But apart from that it is pretty good.
But as things stand, I'm happy with Feedly. And as such, I need some new blogs to read! So what blogs have I missed so far? Bear in mind, I am into in WordPress, SEO, shit like Lifehacker, Football, Travel, Wrestling and General Bumpf.