Last Wednesday night, I cried myself to sleep.
I've been getting a little emotional in my advancing years, as films and even the John Lewis adverts at Christmas have seen me well up, but the last time I cried before last Wednesday was when a relationship I was in went past the point of no return and broke down. It may be strange to compare the break down of a relationship to the fairly trivial nature of Wales' defeat to Portugal in the semi finals, but you need to understand what the Euro 2016 meant to me, as one of the many Welshman and women who got caught up with the euphoria along the way.
This was my third campaign as a paid member of the Welsh qualification campaign. The first was largely a damp squib, both in terms of fun and results, but by the second campaign I began making friends as well as see an upturn in results in Scotland and Belgium.
It was then I began to understand exactly what Wales away was. It was not an old, stuffy movement from a bygone era. This was new Wales, young fans exploring far off destinations and bringing smiles in exchange for beer in exchange for pounds. Singing and chatting about all sorts of subjects, and people from Wales (and beyond) congregating in a location outside the borders to have a good time.
In short, it was a holiday, that had the small inconvenience of football half way through. But unlike bygone eras where Brits were tarnished with hooligan elements, this was different. Fists were replaced with songs. Europop was embraced (more on that later), and pints were shared with our European cousins in bars all over Europe.
This manifested itself in the campaign that – after 58 years – Wales finally qualified. Chris Coleman commented first of all that there were some really good trips on this draw first and foremost, and at the beginning of the 2016 campaign I also looked at myself. Whilst happy and enjoying them, this may be my last one.
The lead up to the campaign had so many great moments for me. From the first game in Andorra which saw us gatecrash the hotel with the Andorra national side in, to the Belgium game where Zombie Nation became a thing, to the Cyprus game whereby it was a week lounging by the pool and we developed a new found love for beach volleyball due to the European Championships taking place in Larnaca, this campaign had so many great memories. Memories that I would look back on with fondness, even if we haven't had qualified.
The other thing quite crucially about this campaign was that it was a release. A bit of a constant in my life when things weren't great outside of it. 2015 wasn't a great year for me, I had illness in the family, setbacks professionally and break ups. My regular cruxes were not there, my only constant though was the activity on the #walesaway hashtag, that got busier and busier in the build up to games.  I smiled, even though I wasn't in Tel Aviv or Godknowswhere in Bosnia for some games, as I enjoyed being part of something. That's what this team, buoyed by the words "Together Stronger" meant to me. We were together, and by God we were stronger when we qualified.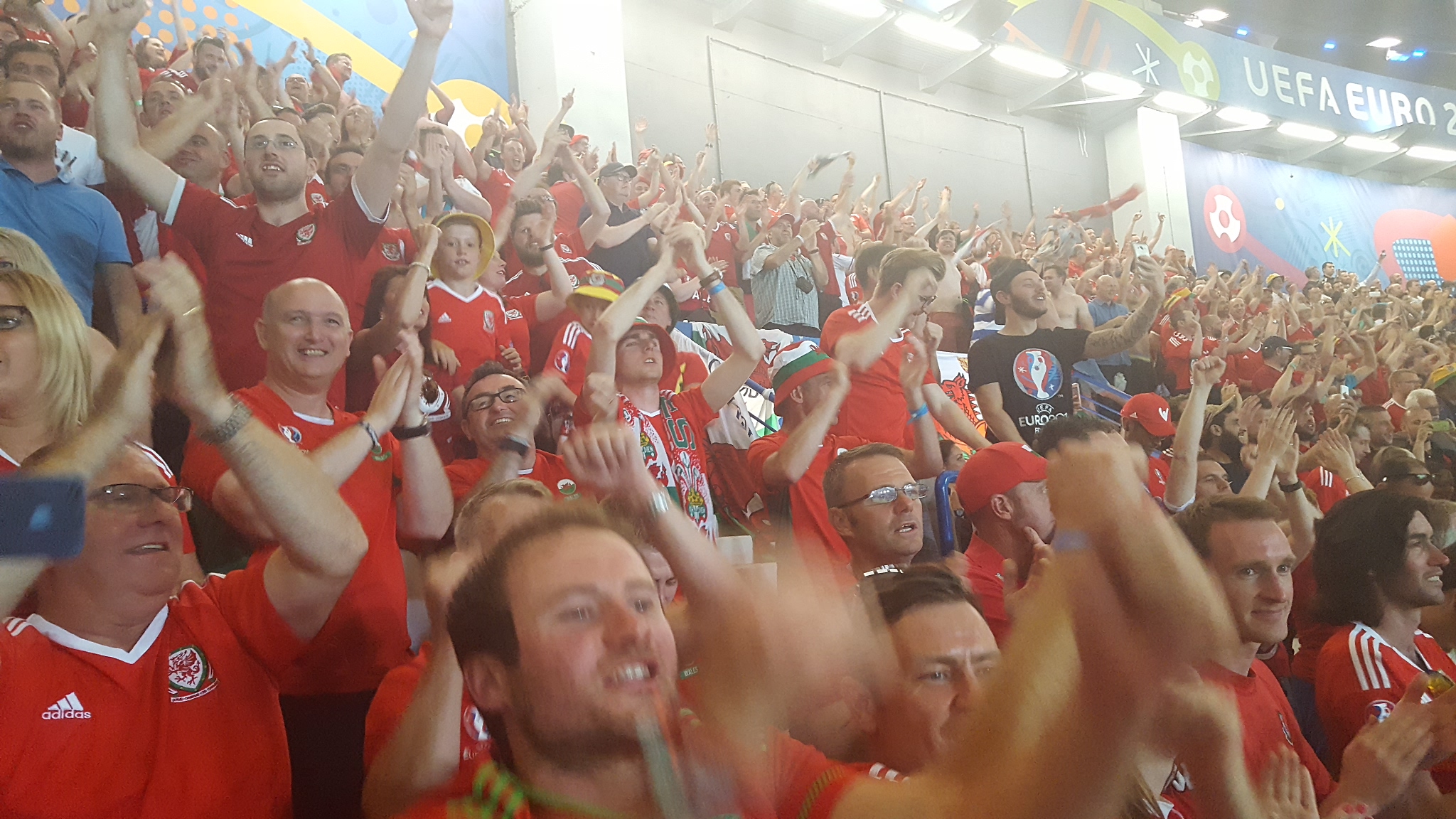 The truth is though we didn't care about the results, as we were there. We were part of the bunting, the Panini stickers, and the write ups. People have to talk about us, because we are good enough to be there, but we weren't sure how long.
In the run up to France results weren't great though. I attended one friendly (a rare game in Cardiff that saw us lose 3-2 to The Netherlands), and whilst we impressed without Bale or Ramsay, we did seem a little off. Other results weren't that great, such as a 3-0 demolition by Sweden, so I'd be lying if I said a part of me was convinced we were going to France to make up the numbers. I didn't care. I had tickets for all 3 group games, so I was happy just to see my team play in a major tournament. It would be nice to see us score at least one goal though.
So we arrived in Bordeaux, and we partied and celebrated in a friendly way with our new friends. I talked about it in length but we actually won a game. This began probably the greatest adventure of our lives. Sure we then lost to a very disappointing England team, but the bigger result for me that day was Northern Ireland beating Ukraine. That meant that – at the very least – we would not be the worst team in the tournament.
After a fairly quiet Lens/Lille trip that saw me stay in the town of Kortrijk, that saw many a night gathered in the hotel bar watching the 9pm kick off game, we headed to Toulouse for the final game for me. There, despite being a vox pop for Sky News, I saw probably the most dominating performance Wales have produced in my lifetime.
Russia was another disappointment, as 12 years ago I remember us go out to Russia in controversial circumstances, this time there was no performance enhancing drugs, Wales attacked Russia over and over in a game that I didn't want to end. It was so impressive, as somebody who had before that game not seen Wales win by more than one goal. With the England vs. Slovakia game going to a draw we topped the group. Not only were we not the worst team in the tournament, we were also the best in the group.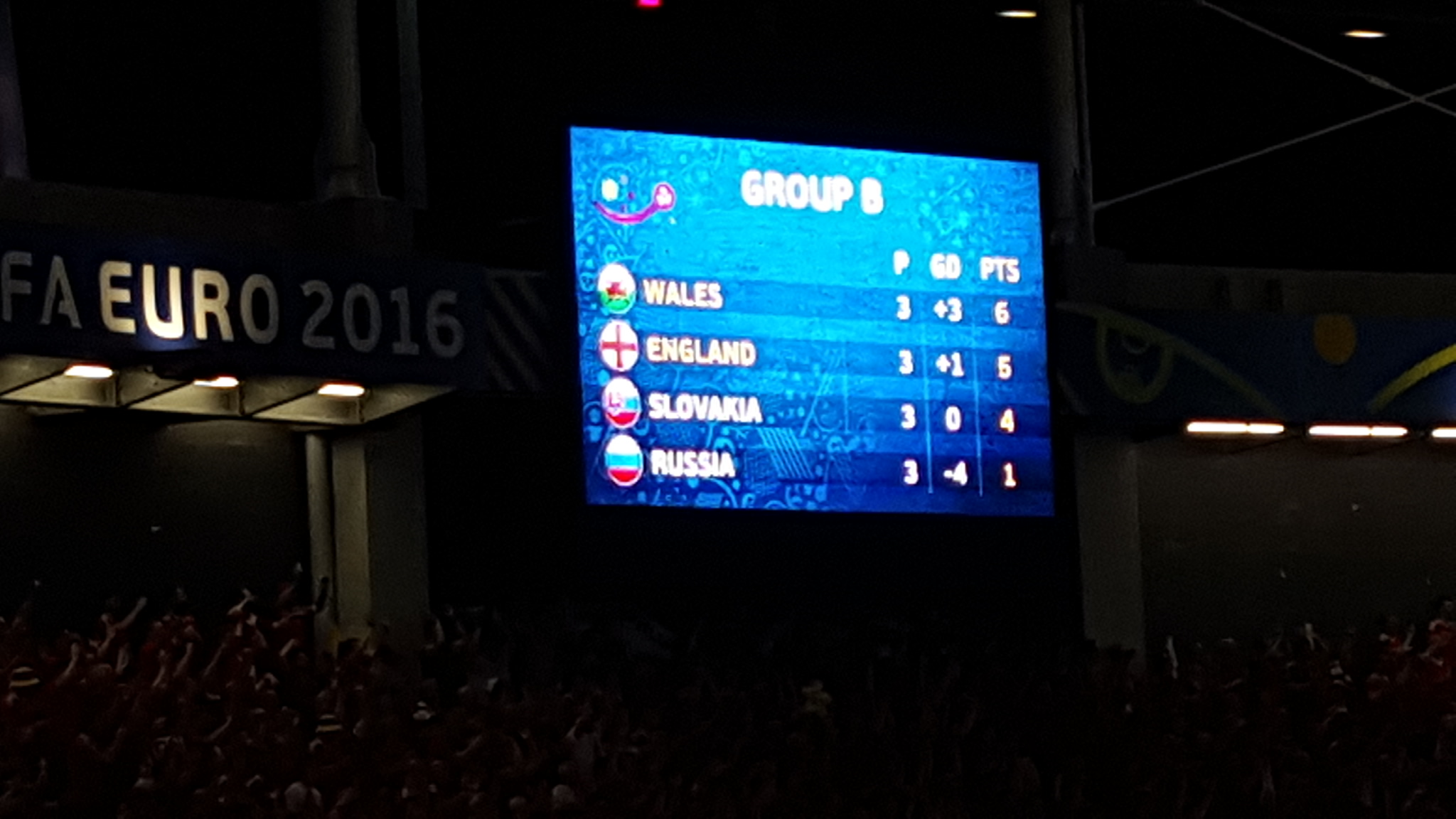 France ended for me after that game, as I needed to head home. Others were far more creative than me in filling out their holiday request forms and stayed out there. The next game against Northern Ireland however for me was the most muted. I'm not sure why, whether it was post Brexit (and the post Brexit hangover where we called half the country words I couldn't possibly repeat here), whether it was the performance where we weren't the best team on the pitch, whether it was the fact that I knew some great Northern Irish friends and the way they were eliminated was so cruel. I just didn't enjoy it. We weren't the worst team from Britain in the tournament.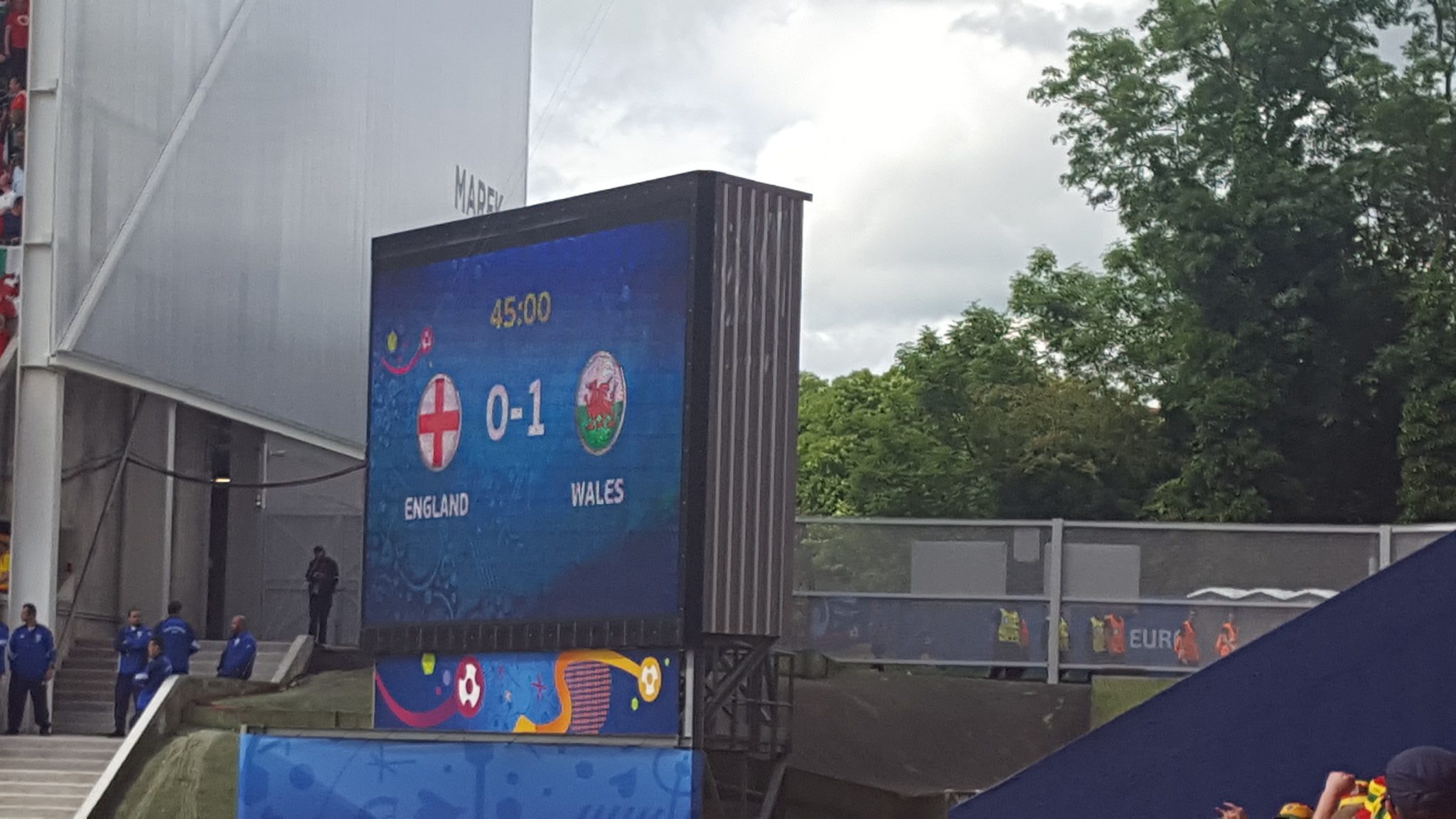 That being said, neither was Northern Ireland. England were eliminated against Iceland (WHICH WAS NOT FUNNY IN THE SLIGHTEST) and suddenly we were the sole home nation representative. Next was Belgium.
Oh, Belgium.
Whilst Russia was the most fun game I've seen, this was special. I've never seen a performance like it from Wales. We were so good. So, so good. This should have been our final but it wasn't. Wales were clinical, and played so well against the second best team in the world. It produced one of my favourite pieces of audio when Iain Macintosh waxing lyrical about the Welsh side 2 minutes in. This was the same country that got battered to Moldova, folks.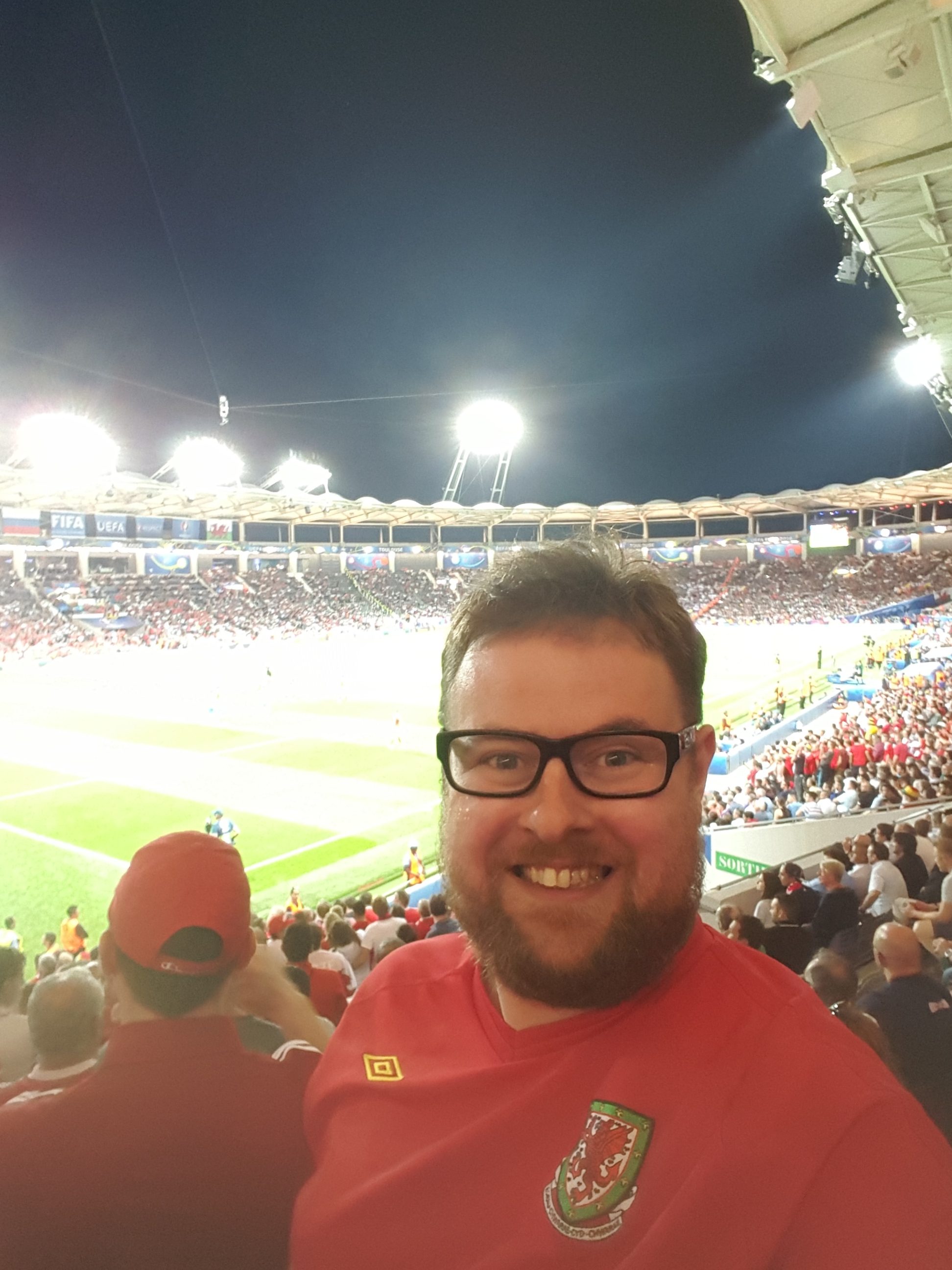 Sadly, the next round saw Wales finally be beaten by Portugal, and the tears flowed from me. Not because we lost, just because the journey I had been on for the last 2 years was over.
This campaign saw me grow as a person, and it has been a stable point of my life that has seen a fair bit of change. The tournament itself was incredibly happy time for the vast majority of Welshmen and Women, and with the country being all over the place right now and so much hatred being directed towards non Brits, I'm happy to have added a bunch of Europeans to my Facebook friends list. I also surprised myself how much French I learned (even getting complimented) and on my table I have a copy of L'Equipe bought after the Russian game which I'm able to understand to at least a basic level.
I am not the only one, as the most common sentence said to me by a group of my friends towards me in the last 3 weeks have been prefixed with the words "I'm not a football fan but…", with people genuinely happy that I was having the time of my life. I was just happy sharing one element of my life that has been so important to me in the last 2 and a bit years. However, like all good things, times must end.
If that's not worth crying for, I don't know what is.
---
Also published on Medium.