At the beginning of the month, I was out with members of the most excellent Computer Club in the Lass O'Gowrie. At the club, there are various Atari Jaguar home brew developers – who develop their own games on the console. One of the more popular games is Superfly DX – which is a gorgeous one button game based on Copter*. I commented that I made a simlar game in the early noughties, during a summer where I didn't work nor do much except program video games and speak to the lovely people on Blitzcoder, some of them I still chat to now and again.
Anyway I found the video games I made, including the game mentioned above – Wormhole, so I've decided to give them away as a free Download.
I usually give them away (they were on my other blog for ages), but for those who missed them, I'm sharing them here :).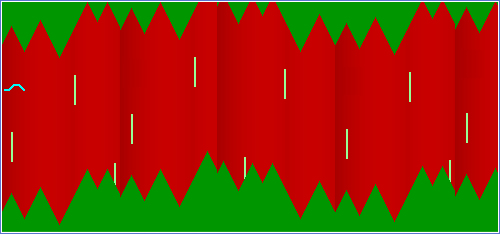 1. The Wormhole – The game mentioned above, a game that was started out as a bet, but turned out to be pretty good. A mate of mine said that I couldn't create a game that copied the helicopter game to perfection. So I spent the best part of two days making this: The Wormhole. My mate said that it was better than the original, so I lost this sportsman bet in the greatest travesty in recent history.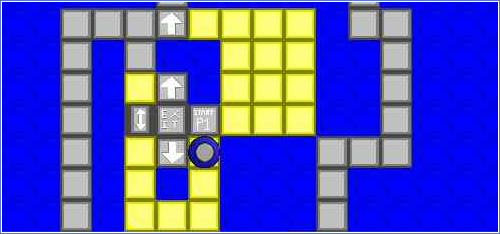 2. The Square Game – Loosely based on an old Commodore 64 Game: Sensitive, The Square Game was my most ambitious game I ever made. Took over 6 months to make, and features a Level Editor. Fairly well received (featured on loads of download sites), but I didn't enjoy playing it up until recently, as by the end of the project, I was sick of it.
3. Penalty Prize 2002 – A remake of my first ever game made in QBasic! Updated for the 2002 World Cup (the original was for the 1998). Penalty Prize is back, live and in living colour! 2 players only and featuring the last 16 teams in the World Cup (so all you French and Argentine's have to make a cup of tea!). 6 players for each team trying to win the shoot out. Incidentally, the first game that I was in talks with for being published, and me receiving money for. Result!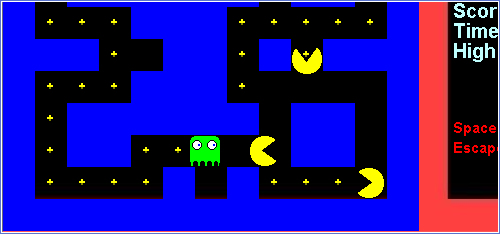 4. Intruder Alert – After a discussion over at Blitzcoder about certain games, this was the result. The discussion was about games where you play the bad guy (Dungeon Keeper and Wario) spring to mind. This is Pac Man, but instead of playing the hero, you play the ghost, who has to protect his pills from the intruding Pac-Men. First game I made to feature music. Not, fortunately, made by me.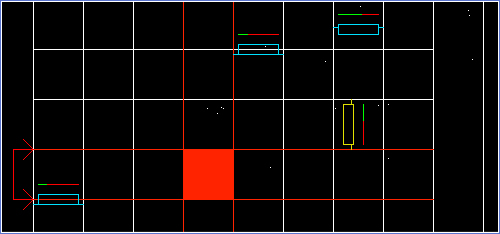 5. Gridshot – This was a competition entry for "Produce a Vector Game" (lines and internal graphic functions only). This was loosely based on the classic Tempest. Not as good, but still good fun to make.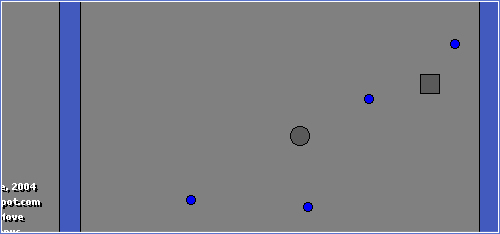 6. Eskew – The Second Entry for the "Produce A Vector Game". Move a circle around a grid, collecting squares and avoiding blue balls. Was based on a flash game.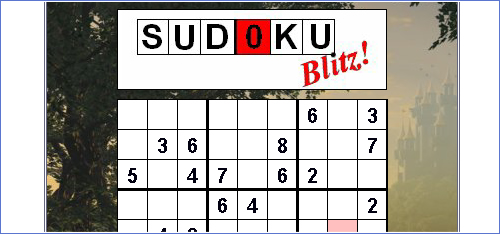 7. Sudoku Blitz – My Sudoku game. Nothing more, nothing less.
8. Lizzie's Jubilee Manager – I completely forgot I made this! There was a "Stupidest Game" Competition on Blitzcoder, and my game was a Satirical Satirical Commentary on The Golden Jubilee that was happening at the time. Increase Royal Popularity by completing a whistle-stop tour of the UK. It's crap, but that was the point.

Download Lizzie's Jubilee Manager
Disclaimer
These games are for Windows PC's. These games work on my Windows 7 machine. Your milage may vary though. I'm not sure if these games work on Apple Macs.
Some of these games have dismal music (Intruder Alert, I'm looking at you), so you may want to mute your speakers.
I've checked (and compiled) these files, so there's nothing untoward in them. However, if you download these and your computer blows up, you can't hold me responsible.

A Chance of A Christmas Miracle?
These are most of the games I've made, but not all. I made more games that I've been unable to find. My Christmas Wish would be to find these games, as they represented a good time for me:-
Ripcord – No idea why I don't have this. Was my first ever game I produced and was a parachute simulator. It was featured on remakes.org (now Retro Remakes) and looked like this. Possible file name – ripcord.zip.
Intruder Alert 2 – A sequel to Intruder Alert that was an entry into the Blitzcoder "8 Bit" Competition. Play a Space Invader and destroy wave after wave of Turrets. It looked like this. Possible file name – ia2.zip
Blitz Lights – A "Lights Out" Clone. That's all I know about this I'm afraid.
So if you can think of ways of digging up the files (these were previously hosted on http://mysite.freeserve.co.uk, and then http://mysite.wanadoo-members.co.uk), I'd be extremely greatful!
Merry Christmas Everybody 🙂
Rhys
* Copter was based on another game (which name escapes me – Wormhole's based more on that flash game – linkback if anybody can remember it)