So yes! Remember when I talked about my holiday? Well it's finally booked, here's my final itinerary:-

A few changes were made from the original itinerary, largely due to problems (more on that later), and advice from readers. The two main changes are the following.
Less Time In Richmond – A day and a bit is apparently enough, because there's nothing much there.
Less Time in Toronto – On the 15th, I'm doing a night bus between New York and Toronto. Primarily because it's the best option. I know that a lot of people suggested I spent a day or two at Niagara falls, but I couldn't. The reason is solely down to one company.
Greyhound Buses
Oh my days, I've never known a difficult to use website. Nothing is made obvious, as I'm pretty sure it's organised like this to make the company a lot of money (more on that later).
Here's a real life example. On the 7th of June I wanted to go from Richmond, Virginia to Washington DC. I placed the details on the website, as you can see here:-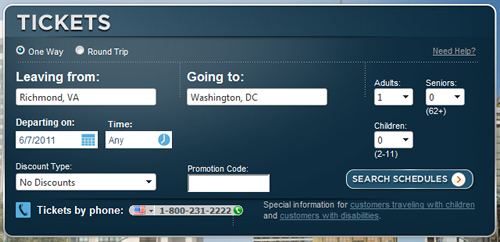 Upon clicking on search schedules, notice the date that's searched for:-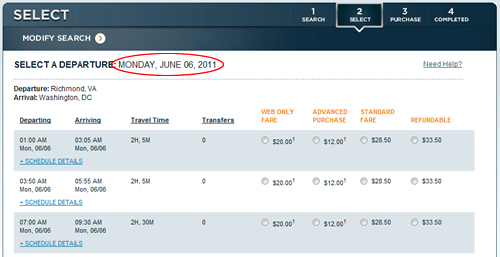 So all of a sudden, I'm now getting a bus on the day before. Not exactly helpful is it? Why is there no seemingly point to say "Sorry, we can't do Tuesday, here's Monday instead!". I don't want a bus on the Monday, I want a bus on the Tuesday!
I know Dan will probably take the piss out of me for it (because I did when he did something similar a few months ago), but it caught me out. Foolish, or should the website have done more? I'm pretty sure I won't be the only person to "fall" for this.
Either way, after Greyhound got my money (which they'll probably keep, as the refund enquiry process takes 14 days), I went to megabus.com. Sure enough, it worked out easier, cheaper and friendlier than Greyhound. Admittedly they don't go to Niagara, but I'll live.
In conclusion – Greyhound, I'll never use your services again. Your website seems like it's out to trick me (which it did), and problems don't seem easy to fix.