….was that the UK is severely lacking in talent.
I'm not sure what it is, maybe with recent events has left people scared, and people haven't practiced their art as much as they should, but BrightonSEO left a lot of people scared, borderline quivering mess, as a juggernaut rolled through their hard work without much care and attention.
Of course, the "talent" I'm talking about isn't SEO talent (BrightonSEO has a selection of the most talented Digital Marketers the world has to offer), but rather a talent for pinball! I thought somebody would give me a game, these two pictures show I was sadly mistaken.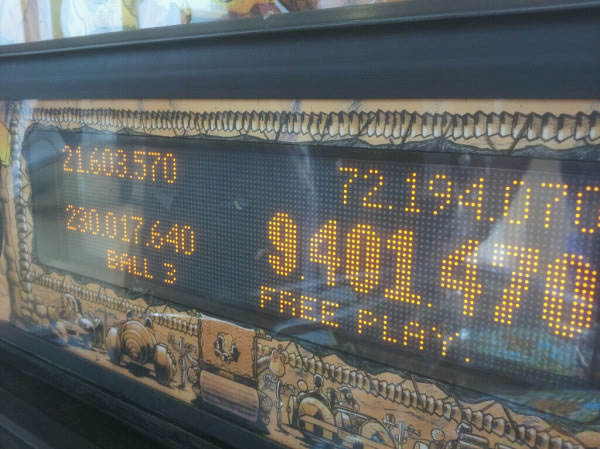 The names of the SEO's of which the spherical smack-down has been laid down upon have been censored for the protection of the innocent.*
In all seriousness though, it was my first Brighton SEO, but it definitely won't be my last. Had plenty of takeaways from the speakers, many of which their slides are floating around online (you can view the slides from Alex Moss'  Brighton SEO talk on Social Structured Data here) – EDIT: Daniel Bianchini's Blog has a list of all the known slides put online. Plus it was great seeing so many friends, even if I do spend a large part of Sunday detagging myself from Facebook photos.
I'll try and type the bullet points I made, and either post them here or on the 3 Door Digital blog. They are fairly substantial, and Evernote isn't exactly behaving itself at the moment. Will probably be a copy and paste job.
Here's to the September 2013 one, yeah? If you are a Digital Marketer with any sort of drive to succeed or care for your job you really should go.
I may even get to that Lewes FC game I was threatening to go to beforehand.
* I should add that PushON's Simon Wharton, if this whole digital malarkey thing doesn't work out, should really become a hustler on the Amstar's 1980 classic Phoenix.
** Photo Credit – Jackie Hole.